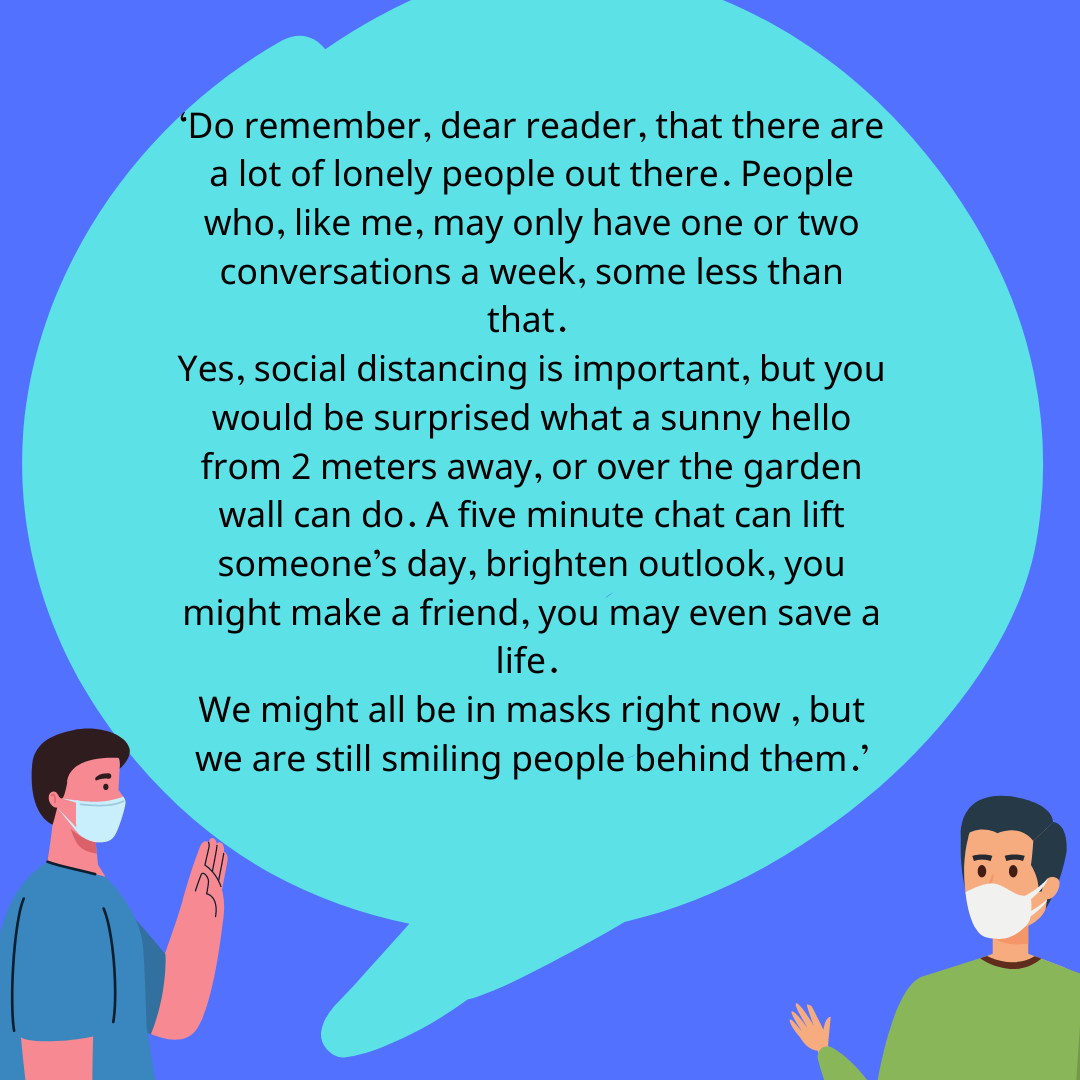 Neighbourhood Watch – with a Twist! Nicholas Gadd tells his story of Lockdown
When this lockdown first started I, as was everyone else spent most of my time watching the news in shock at the numbers of sick, hospitalised and sadly those losing the fight, as the death toll rose so did everyone's anxiety, fear and lack of toilet roll.
 I decided I needed to occupy my mind with any and everything I could to keep stimulated, perhaps learn a language, paint my home, paint a masterpiece, finally get round to doing that two-thousand-piece jigsaw I bought 15yrs ago as a personal challenge that still has the cellophane on it.
Time waits for no man, and an entire year has passed and what have I achieved, well er, O.K. So I discovered YouTube and all the delights of that and realised that the world is populated by so many morons willing to do the stupidest things in order to claim a modicum of fame, but also a vast amount of seriously talented and amazing people capable of the most inspiring things, oh and cats. Secondly I now know that learning another language is hard, really really hard so I tip my hat to anyone who is bilingual (also anyone who can program a teasmaid and get it to really work), as of now I am struggling with some very rudimentary Spanish and Russian , also still using the kettle and teapot. The third thing is I have realised how lonely I am without my beloved pub , a place I would often go and sit with all the same faces arguing over the crossword , gossiping like school girls and never a day went by without someone beginning a conversation about the good old days , when stuff was better stuff because it was old and a sharp rebuke about progress being better, oh the joy, but I miss it now , landlady singing behind the bar , survivors of the sixties who may or may not have know the Rolling Stones and lived the high life, that one guy who can be found in every real pub in the land who always has a deal on just about anything, even down to the really old guy who just sips his pint-o-bitter and just so happens to have an empty glass at the beginning of every round. I do miss the social interaction as do us all.
I first noticed my neighbours one morning as they were chatting loudly outside my window, barking what seemed to be orders at each other and running around here and there busying themselves, not knowing their actual names I decided to give them the nom de plumes of Tarquin and Henrietta and in my observation, it seemed Henrietta was one bossy britches often screeching orders at Tarquin and once actually biting him quite hard. 
Just to point out Tarquin and Henrietta are squirrels, who inhabit the tree outside my window. This is how I am surviving lockdown; I am following the lives of the squirrel population outside my window, I have gone so far as to acquire a catapult to fire mixed whole nuts down onto the grass for them and they seem to like it all except Brazil nuts, they just ignore them. It has been a real joy watching them going about their daily lives, playing the defying gravity game running up the underside of branches , going against the laws of physics (this is fine as we can't speak squirrel therefore we can't explain physics too them so the rules don't apply). There have been highs and lows in squirrel watch and even attempted murder when Tarquin was almost pinned by the Devizes version of the beast of Bodmin, the moggy of Mayenne Way! (he escaped, unharmed but flustered and if you had a squirrel swear jar it would have been filled). I might write a book about the goings on of these little nutters especially since the arrival of Bella and Claude, new interlopers but that is future me.
Still not opened the dreaded jigsaw, saving that just in case of lockdown four, the sequel of sequels.
On my only serious note, do remember dear reader that there are a lot of lonely people out there , people who like me may only have one or two conversations a week, some less than that, yes social distancing is important, but you would be surprised what a sunny hello from 2 metres away or over the garden wall can do , a five minute chat can lift someone's day, brighten outlook, you might make a friend, you may even save a life. We might all be in masks right now, but we are still smiling people behind them.
To my friends in the pub (The Pelican) I miss almost all of you as some of you I see walking past my window as a wave is always nice.
Too everyone else, keep on smiling, stay safe , we will get through this, we will have our lives , families and friends back and maybe even our pubs one day, cheers for now!